Description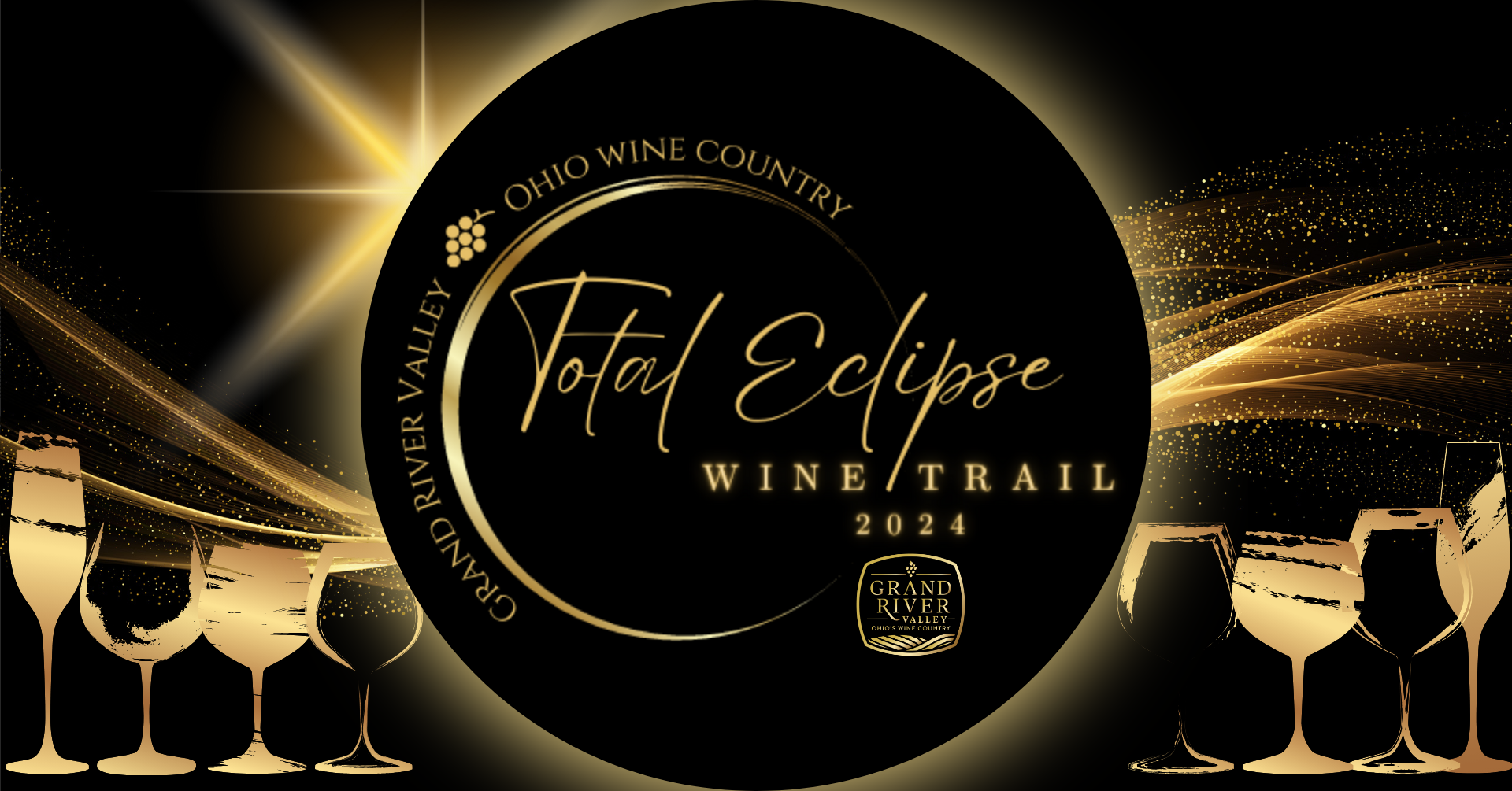 The Total Eclipse Wine Trail takes place April 5, 6 & 7 12-5PM in the Grand River Valley in celebration and anticipation of the Total Eclipse taking place on Monday, April 8th.
Purchase your Passport in advance and pick up your Passport Package at your first (chosen) location. Package includes a keepsake bound passport booklet, one official Total Eclipse Wine Trail T-Shirt and $5 off (with your passport) on ONE Trail package at each location. Ensure your participation with the purchase of a Passport. Quantity is limited. Passport holders are entitled to participate in the Total Eclipse Trail. The event may be closed off to the public due to volume. Don't miss out on this once in a lifetime opportunity!
Eclipse-themed appetizers paired with wine samples at fourteen unique wineries! The Grand River Valley is in the totality viewing area. If you're visiting Northeast Ohio for the total eclipse on April 8, explore the wineries of the Grand River Valley over the weekend leading up to the eclipse event! Fourteen unique winery locations within minutes of each other. Many wineries are releasing new limited edition wines for the eclipse. Trail runs Friday, Saturday, Sunday from 12-5PM. $10 per person at each location (save $5 at each location with Passport).
Get your passport before they sell out!
PLEASE NOTE: Package will NOT be delivered to you. Disregard any/all shipping or delivery verbiage. This package will be ready for you on April 5th at the winery location selected by you during ordering.
PARTICIPATING WINERIES & APPETIZERS:
Grand River Cellars
5750 S. Madison Rd. Madison, OH 44057
440-298-9838 / www.grandrivercellars.com
Appetizer: "To the Moon, Alice!" Bacon, Gouda Mac & Cheese
---
Debonné Vineyards

7840 Doty Rd. Madison, OH 44057
440-466-3485 / www.debonne.com
Appetizer: Corona Chicken Sliders with Solar Flare Sauce
---
Cask 307

7259 Warner Rd. Madison, OH 44057
440-307-9586 / www.cask307.com
Appetizer: Black & White Cookies
---
South River Vineyards

6062 South River Rd. Geneva, OH 44041
440-466-6676 / www.southrivervineyard.com
Appetizer: Galaxy F Bomb Truffles
---
Kosicek Vineyards

636 OH-534 Geneva, OH 44041
440-361-4573 / www.kosicekvineyards.com
Appetizer: Cosmic Pasta Salad
---
Harpersfield Vineyard

6387 St. Rt. 307 Geneva, OH 44041
440-466-4739 / www.harpersfield.com
Appetizer: Moonshine-Roasted Mushrooms & Meatballs
---
Stonegait Winery

4275 Bates Rd. Madison, OH 44057
440-307-9571 / www.stonegaitwinery.com
Appetizer: Space Balls Cocktail Meatballs
---
Rosabella Winery

3951 OH-307 Austinburg, OH 44010
440-275-5218 / www.rosabellawinery.com
Appetizer: Total Eclipse of the Cheesecake Tart
---
Winery at Spring Hill

6062 South Ridge Road West, Geneva, OH 44041
440-466-0626 / www.thewineryatspringhill.com
Appetizer: Path of Totality Trail Mix
---
Virant Family Winery

541 Atkins Rd. Geneva, OH 44041
440-466-6279 / www.virantfamilywinery.com
Appetizer: Potato Moon Soup
---
Laurello Vineyards

4573 St Rt 307E, Geneva, OH 44041
440-415-0661 / www.laurellovineyards.com
Appetizer: Dark Chocolate Bean Dip & Crackers
---
Ferrante Winery

5585 St Rt 307, Geneva, OH 44041
440-466-8466 / www.ferrantewinery.com
Appetizer: Casa Lunar Ravioli
---
Silver Crest Cellars

4511 Bates Rd., Geneva, OH 44057
440-428-0677 / www.silvercrestcellars.com
Appetizer: Chocolate Eclipse
---
Hundley Cellars

6451 St. Rt. 307, Geneva, OH 44041
440-361-3088 / www.hundleycellars.com
Appetizer: Moon over My Hammy
Tags